Zantrex 3 Review & Results
Does Zantrex 3 Work?
Have you ever seeing those TV commercials for a diet pill called Zantrex 3 (blue bottle)? Its got this guy's voice (somewhat a high pitched voice) repeatedly saying Zantrex 3, it sure is annoying! Now, I find myself doing some digging and a review on this fat burner, after hearing its name so many times - I guess repeated exposure to advertising does work, huh?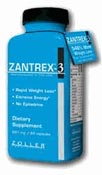 I was at a local GNC the other day when an employee there handed me a flyer promoting Zantrex 3. As with all over-blown advertising, this had claimed that it was the #1 fat burner. I've certainly seen no shortage of so-called "number one" fat burners in all the reviews we've done here. It had also stated various findings from a clinical study. So, putting the other "#1 diet pill" study aside, here's the gist of the Zantrex 3 study findings:
45 day study involving 47 subjects
Zantrex 3 taken 15 minutes before major meals with a large glass of water
The result - average weight loss was 11.2lbs
Here's what popped in mind after reading the flyer:
So where are the citations to the clinical trials?
Was this study peer reviewed?
While there are various references to this so-called study, I really could not find this study anywhere. Not at pub-med, not on JISSN, nor anywhere else. When it comes to studies of supplements and diet pills, only those studies that have been published in a peer-reviewed journal hold any substance. Otherwise, we don't put much consideration or weight in the study.