Nutrex Lipo 6X vs Lipo 6 Review
What is Lipo 6 by Nutrex?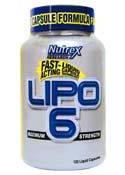 The fat burner Lipo 6 has become a very popular weight loss supplement. Certainly with a name like that, it could only mean one thing - a diet pill consisting of 6 key active ingredients! Actually that was the case with the older formula, but it isn't the case with the new formulations. With its immense popularity, it only makes sense for Nutrex to capitalize on that popularity and release different versions of this diet pill including Lipo 6X, Black, and For Her versions.
Our review here is for comparing the differences between Lipo 6 vs. Lipo 6X. While they may be from the same line of fat burner made by Nutrex, their ingredients and formulas are quite different, and we'll discuss all of that here.
The "Lipo" in L6 is the prefix meaning lipid or fat, so this would seem like an appropriate enough name for an effective fat burner. The key active ingredients contained in lipo6 include Synephrine, Guggulsterones, Yohimbine, and Caffeine. The key ingredients in Lipo 6X include synephrine, yohimbine, acacia rigidula, caffeine, guggulsterones, Phenylethylamine (PEA), and hordenine. As you can see, these two different versions share a few key active ingredients such as guggulsterones, yohimbe, and synephrine; however, L6X contains several more ingredients, which we'll discuss in a bit.
With all the fancy ingredients aside, the crux of the matter here is: does the Lipo 6 work?