Biotest Hot Rox Review
Biotest Hot Rox Extreme Fat Burner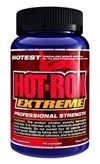 Hot Rox is the popular fat burner made by Biotest Labs. Originally, their popular fat burner was simply just known as "Hot Rox" without the "Extreme". But they've made some changes with its formula and ingredients, and then added the Extreme to the name. At first glance, there doesn't seem to be any major changes with its ingredient profile, however, we'll discuss and explain some of they key ingredients that's contained in this fat burner.
With Hot Rox Extreme, Biotest claims that it's even more hardcore, and that this newer version "one-ups" the previous version. At the same time, they also claims that their fat burner blows away the competition. But we all know that these types of claims are just that, claims, and it's just all part of the marketing. The few new ingredients included in the Extreme version are Carbolin 19 and yohimbine. We'll get to explaining what these ingredients are in a bit. Below, let's take a quick look at the ingredients of Hot Rox Extreme.
Biotest Hot Rox Ingredients
Let's take a look and see what ingredients are used Biotest Hot Rox. Below are the ingredients in Hot Rox:
Serving Size (caps) 1
Servings Per 96
Hot Rox Extreme Formula 500mg (A7-E, 3,17-Dihydroxydelta-5-Etiocholane-7-One Diethylcarbonate, Carbolin 19, Piperine, Yohimbine HCl , Caffeine.)
The above gives a brief list of the ingredients. Some major differences between this newer Extreme version and the previous one is that its serving size is 1 pill now, previously it was 2 pills. Each serving contains 500mg of the newer formula, whereas the old version contained 950mg per 2 pills. Also, guggulsterone and sclaremax has been removed. In our previous Hot Rox review, we had mentioned this about Sclaremax:
Sclaremax is a compound found in a plant called Salvia Sclarea, and Sclaremax is a potent adenylate cyclase activator - meaning that it increases the enzyme action of forming cylic AMP (cAMP - cyclic adenosine monophosphate) from ATP. What's the deal with cAMP? Increased cAMP with high T3 levels greatly increases lipolysis - or the breakdown of fat. On top of that, higher levels of cAMP and T3 also decrease lipoprotein lipase activity, leading to decreased lipogenesis - or the production of fat. So in a nut shell, sclaremax: 1) increased breakdown of fat, and 2) decreased production of fat. But this is no longer in the Extreme formula. Below, we'll take a look to see what the ingredients are in the newer formula.