Stacker 2 Fat Burner Review
Stacker 2 Reviews & Side Effects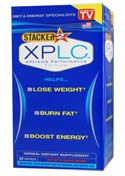 Okay, so here's a quick review of Stacker 2 diet pill and fat burner. It's nothing revolutionary, it doesn't contain any out-of-the-ordinary ingredients, and it has a rather simple formula. The Stacker fat burner is certainly one of the "older" weight loss supplements that has been around for a long time. The old versions of stacker with ephedra based on the ECA stack is no more, but are now newly formulated products that still use the same stacker name. A long time ago, a lot of diet pills were based on the popular ECA stack - ephedra, caffeine, and aspirin. But a lot has changed over the years - ephedra was banned and new research has shed light on various different weight loss compounds.
If you're still looking for Stacker 2 with ephedra formulas, I think you're out of luck. I'm unaware of where you can find it.
Obviously, the Stacker fat burner formulas has changed as well, and we'll discuss some of the different ingredients contained in our stacker review here. As you may be aware, there are different versions of this fat burner. For example, there is a Stacker 2 XPLC, there is an ephedra free version, and there is also a Stacker 2 6 Hour Power energy shot product.
We will be reviewing the XPLC Stacker 2 here. We have also received hundreds of different user reviews of stacker diet pills, so if you're looking for real user reviews, you can see it there. And if you've used this weight loss supplement yourself, please share your review and feedback as well. I'm sure other readers will appreciate it.