Weight Loss With Green Tea Extract
What is Te Lite Weight Loss Patch?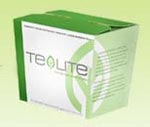 I had received both of my Green Tea 300 and Tea Lite weight loss patches and have had a chance to try them both - you can read the green tea diet patch review here. The main difference between these two products is that Green Tea 300 is a pure green tea mix, while the Tea Lite formula is a mix of mainly green tea extract and noni extract.
With many other green tea articles on our site, I won't go in details about green tea. You can read more about it with the following links:
Instead, we'll talk a bit about the noni extract instead.
What is Noni Extract (Morinda citrifolia)
Noni juice has been gaining wide spread popularity over the recent years, because of its many health benefits. Noni extract comes from the fruit of the Indian mulberry (Morinda citrifolia), and has been used in folk remedies by Polynesians for over 2000 years. Noni has a wide range of therapeutic uses such as anti bacterial, anti inflammatory, antiviral, antifungal, and immune enhancing effects among others.
Noni is indigenous to Southeast Asia, cultivated by Polynesians, first in Tahiti, and eventually in Hawaii. Noni was used to treat all types of major and minor health problems, and was historically known as the queen of all canoe plants - it was a requirement to carry a Noni tree to each newly inhabited island.