VPX Redline Review
VPX Redline Fat Burner Reviews

When it comes to fat burners / energy drinks, VPX Redline is widely known, and recognized as one of the more potent, kick-your-@$$-in-high-gear products. It's an all in one thermogenic energy drink that not only helps to shed some unwanted fat, but also boosts energy levels for even more intense workouts. According to the over-hyped advertising of VPX:
Check out this freaky scientific VPX breakthrough: RED LINE™: is the only matrix ever developed to shred fat through the shivering response in the body. By shivering the body burns huge amounts of stored body fat for energy in an effort to keep the body warm. That's not all! In addition to shivering, you'll also be sweating up a thermogenic storm. The combined mechanisms of these two processes results in unparalleled fat loss!
While the advertising messages sounds a little hyped, the Redline fat burner itself lives up to hype. Just take a look at the hundreds of VPX Redline user reviews and feedback we've received so far. At the same time, if you've used VPX Redline, feel free to leave your feedback on our review section as well.
VPX Redline Energy Drink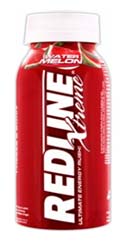 VPX Redline comes mainly in several different versions, which include the VPX Redline liquid, Redline RTD (ready to drink), Redline capsules, a Redline princess that targets female consumers, and VPX Redline Xtreme which contains several additional ingredients compared to the original version. While there are several different versions, they ingredients contained are quite similar so we will look at some of the key active ingredients in Redline.
Like most other diet pills on the market, VPX Redline does not say how much of each ingredient is contained in the mix - after all, it is their "proprietary" formula. Caffeine, as in most fat burners and various energy drinks, always plays an important role, and it is no different for VPX Redline. While we don't know how much caffeine there is in Redline, we can venture a guess and say that there might be around 200 to 250mg or so in a serving. There are several sources of caffeine in VPX: caffeine anhydrous, yerba mate, and green tea.
Of all the ingredients in the proprietary blend, there are several sources of caffeine. So you can be sure that there's plenty of caffeine in Redline. The amount of caffeine in it is probably close to drinking 2 to 3 cups of coffee in one shot - keep in mind, we don't know for sure, and this is simply a guesstimate. If you have caffeine sensitivities, you should not use Redline.