Hydroxycut Hardcore Review
Muscletech Hydroxycut Hardcore Elite

I've been on it for 2 weeks and I have noticed a difference. I lost 6 lbs and my waist line is getting smaller. I do a
little exercise, not alot but I'm sure If I  increased my exercise and stayed with this, I will hit my goal. One important thing to remember is to drink LOTS of water. So far so good.
- Nadine from Clarksville,TN (4/5)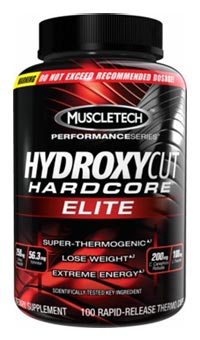 Hydroxycut has had a long product history and also a large user base. From the days of Hydroxycut with Ephedra up to now, there has been many changes and new products introduced to the Hydroxycut line.
Adding to the already extensive line of weight loss products, Hydroxycut Hardcore X promises to help in the never ending battle against unwanted body fat. Over the years, they've played around with the naming several times. They've had the regular and then Hardcore Pro Series, the Hydroxycut Hardcore X products, and now Hardcore Elite. And yes, with each different name, the formula gets re-tooled.
Hydroxycut Hardcore Reviews - Does it Work?
This is a popular fat burner for which we've received over 600 customer comments and reviews! That's right, over 600! You can also read customer reviews of Hydroxycut Hardcore here. The average rating of all these user reviews is 3.9 out 5 stars.
So yes, as you can see, this is one massively popular diet pill.
According to Muscletech promo material, Hydroxycut Hardcore Elite:
super charges thermogenesis
enhances focus
delivers extreme energy
>> Click here for Hydroxycut Hardcore

I took HH and it boosted my energy and gave me the drive to get up and work out. It works great drink tons of water only no pop or nasty sugar drinks. Eat good healthy meals and cut your calories you shouldn't be hungry it will help that. I lost 40 pounds in six months. I did cardio every other day and lifted weights every other day. I also did as many pushups and situps I could do when I woke and before bed. It works, obviously the working out had a big effect. I feel it really helps the motivation and speeds up you metabolism. I definitely sweated more. My buddy who is 27 just lost about 30 pounds on this over the last year. IT WORKS DRINK WATER! LOTS OF WATER AND DON'T GIVE UP!
- Eddie from Chicago, IL (5/5)