Muscletech Hydroxycut FAQ
Frequently Asked Questions

Tried everything under the sun. Hydroxycut is great. I'm already lean but needed to trim a little around the waist. Cut those stubborn 10 pounds that kept creeping up when I missed a work out. No shakes. No stomach upsets. Cuts my appetite AND I can sleep at night. Great endurance for my 70 mile weekend bike trips.
- Big Al from Tampa, Florida (4/5)





Will Hydroxycut work for me?
Hydroxycut is a popular fat burner that has help many users lose weight. It has worked for many people, and is one of the more effective weight loss supplements right now. However, there's no guarantee that it will work for you. While many had found good results from its use, there are also numerous users who have reported that it did not work for them, and at the same time, there are potential side effects as well.
Is Hydroxycut Safe?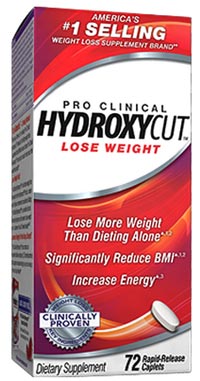 Generally speaking, yes, Hydroxycut is safe. Many people do experience some common side effects such as higher heart rate and decreased appetite, and nothing majorly harmful. However, Hydroxycut is not for everyone. It contains various stimulants, which can cause problems for some individuals. This is why you should always start off taking just half (1/2) of the recommended dosage to test your tolerance.
How much weight can I expect to lose with Hydroxycut?
Assuming you have a healthy diet, and exercise moderately, you can expect to lose 5 to 10 pounds in the first month. Results will vary depending on the individual and their lifestyle.
Is exercising a must when using Hydroxycut?
It's not necessary. Hydroxycut has been shown to be even effective on sedentary people. However exercising 30 minutes a day is recommended for maximum results. Exercising will increase your daily energy expenditures, and besides, it's good for you!