Green Tea Patch Reviews
What is Green Tea?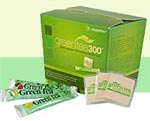 Green tea has long been used by the Chinese as medicine to treat headaches, body ache, poor digestion, and improve well-being and life expectancy. Green tea extract is bioflavonoid rich, and one of its main uses is fighting free radicals in your body. Green tea extract contains high level of polyphenols (a bioflavonoid), and it's also a rich source of EGCG (an antioxidant), that's over 200 times more potent than vitamin E in fighting free radicals and pro-oxidants.
The EGCG in green tea extract protects against digestive and respiratory infections, blocks the actions of carcinogens which promotes cancer, is anti-bacterial, and also helps lower cholesterol levels.
However, these days, you seem to hear more about the weight loss benefits of green tea more than anything else! Pick up any diet pill, fat burner on a store shelve and you'll probably see some form of green tea as an ingredient thrown in to the mix, along with caffeine and other thermogenic ingredients. One of the key benefits of green tea is that it helps thermogenesis without causing jitters and other unwanted side effects - plus the many healthful benefits of green tea.