Burn the Fat Feed the Muscle
Review of Tom Venuto's Burn the Fat Feed the Muscle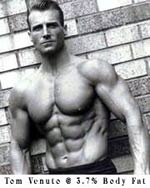 Burn the Fat, Feed the Muscle contains all the information you'll ever need to help you melt away body fat permanently.
Lose fat permanently
Lose body fat without wrecking your metabolism
Lose fat without drugs
Lose fat without supplements
>> Click here for Burn the Fat
What You Can Learn from Burn the Fat, Feed the Muscle
Tom is a featured author at BB4U. If you've read some of his articles, you'll know that the man know's what he's talking about when it comes to fat loss and muscle building. His book "Burn the Fat, Feed the Muscle" will show you everything you need to know about losing body fat, keeping the fat off, and putting on lean muscle mass. Here's just a small highlight of what you can expect to learn from his book:
Why 95% of all diets fail...and the exact, detailed steps you must take to be in the successful 5%
Why it's physiologically impossible for conventional diets to ever work ...unless you know this one simple, but amazingly effective trick!
The top twelve worst foods you should never eat & The top twelve best foods you should eat all the time
How to break through any fat loss plateau - even if you've been stuck at the same weight for years! 10 fool-proof methods that work like magic every time.
Why dieting below your critical calorie level can cause serious damage to your metabolism and actually make you fatter!
Why eating certain "good" fats can actually speed up fat loss and increase your energy levels... and precisely how much of them you need for optimal effects
How to crank up your metabolism and turn your body into a food-incinerating, fat-melting human blast furnace! Easy metabolism-boosting techniques revealed!
The #1 reason why most people can't drop the last 10 -20 lbs of ab flab and how you can lose it with ease
The cardinal sin of nutrition almost everyone is guilty of, which causes your muscle to shrink right before your eyes, while also slowing down your thyroid and decreasing your metabolic rate.
Dozens of the best-kept fat loss secrets of bodybuilders and fitness models that almost NOBODY knows about ... compiled by a 14-year, rare study of the most "ripped"athletes on earth
Plus so much more
Don't miss the single best source to help you achieve your fat loss goals.
>> Click here for Tom's Burn the Fat
Get Our Free Weight Loss eBooks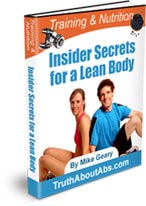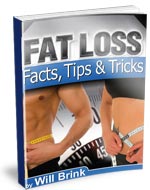 Free weight loss ebooks - Training & Nutrition Insider Secrets for a Lean-Body, by Mike Geary: This ebook, created by Certified Nutrition Specialist & Certified Personal Trainer, Mike Geary, details over 27 specific metabolism-boosting secrets that you can use to strip off your stubborn body fat faster and easier. Contains unique workout methods and nutritional strategies to slash body fat and take your body to a whole new level of leanness.
Fat Loss Facts, Tips & Tricks, by Will Brink: A weight loss guide created by bodybuilding and weight loss authority Will Brink. This ebook will show you simple weight loss tips that no one follows. Learn about Will's K.I.S.S approach for weight loss success, and much more.