Twinlab Ripped Fuel Review
Extreme Ripped Fuel and Ripped Fuel 5X Reviews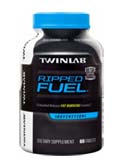 Ripped fuel by Twinlab Supplements is a fat burner that has had a rather long history, where the earlier versions had contained the ECA stack. It's formula has undergone various changes over the years, and it has also branched out to slightly different versions as well. There is the original Ripped Fuel, Ripped Fuel Extreme, and also Ripped Fuel 5X. While these do contain some similar ingredients, overall, their formulas are quite different, and we'll discuss some of their ingredients here.
We'll start off with the basic formula here.
The key ingredients contained in the basic formula include vitamin D, chromium picolinate, cayenne, milk thistle, green tea, guarana, and yerba mate. Chromium Picolinate is a trace mineral that you may find in various diet supplements, such as Ripped Fuel. There are various claims stating that CP helps with weight loss, improves body composition, and enhances fat reduction. However, there's little evidence to support these claims, and on the contrary, many studies have indicated that there's little to no apparent benefit of using CP for weight loss - although it may be of some benefit for suppressing appetite. Read more about chromium picolinate here in detail.
Milk thistle is a herb commonly used for liver support, and is also used to counteract alcohol's harmful effects on the liver. There is also one study that finds milk thistle may inhibit the development of young fat cells into adult fat cells. [1] However, there is still very little evidence to suggest that milk thistle is an effective weight loss supplement. Both Guarana and Yerba Mate are stimulants that contain caffeine. Guarana is rich in caffeine that is often consumed as a potent energy booster, while yerba mate also works as an energy booster and helps improve focus. It is often consumed as an energy drink and tea. We have detailed articles about both of these, so we won't go in any more detail here.