Trimspa Reviews & Side Effects
Trimspa X32 Review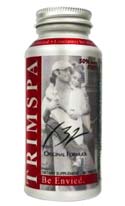 The Trimspa X32 diet pill claims to be a clinically proven fat burner that is the "#1 weight loss pill in the US". The Advanced X32 version also claims that it absorbs 3.6 times faster than the regular X32 tablets. Sometimes, I wonder where they get these numbers and claims of being #1 from? They also highlight a so-called clinical study where their results showed a significant weight loss advantage of using Trimspa with exercise over exercise alone. Apparently, over a period of 8 weeks, the Trimspa X32 group, along with exercise and diet, lost up to 23.7lbs while the diet and exercise only group lost up to 12.8lbs.
First of all, I could not find this study published in any peer reviewed journals, and with these types of manufacturer sponsored studies, we don't put much weight on their claims and results. It is only the peer reviewed studies that we are interested in. It's also important to note the key words in their claim of "UP TO" 23.7lbs vs "UP TO" 12.8. Looking at it more closely, you'll see that the averages they state are 6.61lbs for Trimspa group vs 3.36 for control group. Regardless, this isn't peer reviewed, so no point on discussing it any more than we already did.
The original Trimspa fat burner had contained ephedra, and its formula has obviously changed over the years. The ingredients contained in Trimspa X32 Advanced include: glucomannan, cocoa extract, green tea extract, vanadium, citrus naringin, glucosamine, and hoodia gordonii.
As far as Trimspa results go, we've had various Trimspa user reviews posted here. Overall, it seems to well received, and users speak quite positively about it. If you've used this diet pill, please share your feedback as well.