Cutting Gel Review
Does Cutting Gel Work?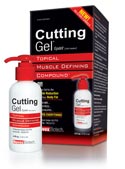 Cutting Gel is a trans dermal gel that penetrate deep into your skin and supposedly dissolve away your body fat on contact. Sounds too good to be true? You're probably right.

In all the advertising you see, Cutting Gel tells you there are 2 catches: 1) Cutting Gel helps release stored fat into your bloodstream, so you have to exercise and reduce your calorie intake to get rid of it, and 2) You can't rub Cutting Gel all over your body at one time.
Okay, the 2nd catch might sound reasonable, but the first catch... Isn't it pretty obvious that anyone can lose some weight simply by "exercising more" and "reducing calorie intake"? How about this: I sell you some vaseline and tell you its the ultimate fat burning lotion, and all you need do is exercise more and eat less.
Okay, enough bashing. All I'm trying to say is that don't get caught up in the marketing hype you hear and spend your hard earn money, yet. You might lose weight simply from the exercises and the reduced calorie intake.