iSatori Lean System 7 Review
Lean System 7 Review (LS7)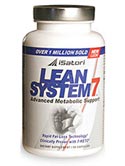 Lean System 7 from iSatori Global Technologies claims to be a new "breakthrough in nutritional science" that is designed to "penetrate and attack" your fat cells. It achieves this by increasing your metabolism, leading to weight loss. Lean System 7, as the name suggests, combines 7 key active ingredients in its proprietary blend to enhance fat loss, and I might add, some of the ingredients in it shows great promise.
Within the ingredient and formula of LS7, there are 3 key and very important compounds in which Isatori labels as "3 new revolutionary mechanisms". The claims are a bit over exaggerated; however these ingredients do show a lot of promise in the fight against body fat. One of the key ingredient in Lean System 7 is 7 Keto, which we'll get into more details about in a bit. The other two key ingredients are yerba mate and guarana, and citrus aurantium. All of which we'll explain here.
iSatori Lean System 7 is developed with several very different active ingredients that shows promise aiding fat loss. These include Citrus Aurantium, green tea, and foremost, 7 Keto DHEA. Of course, Lean System 7 also comes with some standard ingredients like Yerba Mate and Guarana.