VPX Meltdown Review
VPX Meltdown Fat Burner Reviews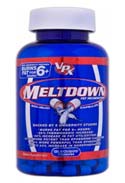 If you've considered using VPX Meltdown fat burner, you've no doubt opened your eyes wide when you read their sales pitch that Meltdown "combines the Fat loss power of 40,000 chocolate bars without all of the bad side effects." There are many research studies showing the various health and weight loss benefits of dark chocolate, but really, 40,000 chocolate bars? Where do they get a number like that from? In any case, it's simply a marketing tactic.
That aside, looking at VPX Meltdown, it certainly looks like it has potential to be a potent fat burner from several angles: user reviews (anecdotal evidence), active ingredient makeup, and also from real scientific research backing up this diet pill. In an industry where supplement companies make claims without substantiating evidence, it's certainly a breath of fresh air when a supplement maker like VPX backs up their product claims with Actual scientific studies that were published and peer reviewed. We'll get to that in a sec, but first, let's take a look at what's in the VPX Meltdown diet pill.
VPX Meltdown Ingredients
Below is a list of VPX Meltdown diet pill ingredients:
Serving Size 3 Capsules
Servings Per Container 40
Fat Catabolizor & β-3 Potentiator 317mg
Caffeine Anhydrous
M_TTA (Methyl Tetradecylthioacetic Acid)
Yerba Mate Extract
lipolytic Trigger™
3'-5'-CAMP (3'-5'-Cyclic Adenosine Monophosphate)
Super Synephrine™ β-3 Activator™ 20mg
Methyl-Synephrine HCL
Iphoric® Potent Methyl β-3 PEA Matrix 138mg
R-Beta Methoxyphenylethylamine
N-Methyl-Beta-Phenylethylamine
NorEpiphex™ α2-Andrenergic Blockade Complex 9mg
11-Hydroxy Yohimbine
Yohimbine HCL
Alpha-Yohimbine
NorEpiphex™ M-MAOxidizor-I™ 20mg
Methyl-Hordenine HCL
Looking at the ingredient makeup of Meltdown, there are 6 key components, which are the Fat Catabolizor & β-3 Potentiator (317mg), Lipolytic Trigger, Super Synephrine β-3 Activator (20mg), Iphoric Potent Methyl β-PEA Matrix (138mg), NorEpiphex α2-Andrenergic Blockade Complex (9mg), and NorEpiphex M-MAOxidizor-I (20mg).
The Fat Catabolizor & β-3 Potentiator comprises of Caffeine, Yerba Mate, and M_TTA (Methyl Tetradecylthioacetic Acid). I'm sure most known what caffeine is, and that it is well known for its fat burning effects. It increases mental alertness, boosts energy, increase adrenaline levels, and its also a mild diuretic. Yerba Mate is a herb that contain a gentle form of caffeine, it also supplies vitamins, minerals, and 15 amino acids. Research suggests that yerba mate may aid with sleep irregularities and joint pains. Many people drink yerba mate to boost energy without the side effects of coffee.