Muscletech Hydroxycut Max Review

I just started the HC Max 2 days ago. I have tried the HC hardcore with results. It is true, no matter what pills you decide to take, you HAVE to exercise. These pills are not miracle workers,they are meant to assist you. You should do your homework before purchasing any pills. Most ALL diet pills have some form of caffeine in them. If you have a sensitive stomach or can't handle caffeine well, then don't buy this stuff, because it will make for bad reviews.
- Kim from Florida (5/5)






Hydroxycut Max for Women Reviews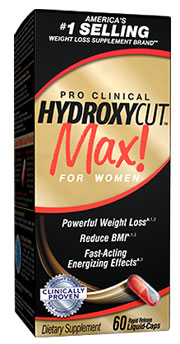 Muscletech has several different formulas for its ever popular Hydroxycut line of fat burners, and one of which is made specifically for ladies. The diet pill is heavily promoted and marketed as a weight loss solution just for women, helping women achieve a lean, and toned body, and also reduces BMI. The diet pill comes in their "rapid release liquid caps", and is supposed to dissolve much faster than regular tablets. They also claim that it is backed up by clinical trials.
You may also see references to 2 different studies, which have shown that the subjects lost 21lbs in 12 weeks in one study, and lost 17lb in 8 weeks in the second study. However, there's no way to verify the claimed results. So take it with a grain of salt. This is simply how they market their products - you will see a lot of "formulated by medical doctors", and "based on scientific evidence" in plenty of their marketing campaigns.