Hydroxycut Information

I have been taking this product now for a little more than 3 weeks... I lost a total of 8 lbs, but I workout almost everyday and eat right. This product really does work with diet and exercise. However, the side effects are as follows: A little bit of weakness and slight headaches. While working out, I am sweating without putting a ton of effort. I recommend this product. I think that it is the most safest product out there and works!
- Jessica from California (5/5)






Hydroxycut Acai Reviews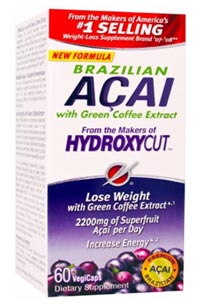 Hydroxycut Acai is certainly one of the more "milder" diet supplements made by Muscletech, as it has a rather simple formula that contains just a handful of ingredients - one of which is Brazilian Acai. Acai is referred to as a "super fruit" because of its many known health benefits. We will discuss this below along with the other key ingredients in this diet pill.
Here's a list of the key ingredients contained:
Brazilian Acai
Green Coffee Extract
Caffeine
As you can see, it has a simple formula.

This product works great. It gives me a nice energy boost and helped me feel more awake. I didn't notice any negative effects from using it.
- Bridget from NY (4/5)