Weight Loss Supplements - Fat Burner Reviews and Comparisons (2)
Muscletech Hydroxycut

Hydroxycut has been around for quite a few years, and has produced consistent fat loss results for most of its users. The original version which was based on the ECA stack has long been discontinued. Muscletech Hydroxycut has been re-formulated more times than I can count, and this line of fat burners is constantly updating - releasing new products, and discontinuing old products. See below for which Hydroxycut products are currently available:
Hydroxycut Review
Hydroxycut Side Effects and Benefits

Isatori Lean System 7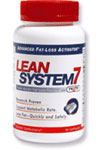 Lean System 7 is another top rated fat burner that has been around for a long time. It's based on various stimulants such as yerba mate, guarana, citrus aurantium, and several other ingredients. Many of the ingredients included in this diet pill have various scientific research showing benefits for weight loss and control (for example, yerba mate, citrus aurantium). Lean System 7 helps to enhance metabolism, burn body fat, and increases calorie burning. To learn more about it, please read our review of LS7 here.
Click here to order Lean System 7 - 120caps
Stacker 2 and Stacker 3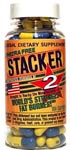 Both Stacker 2 and Stacker 3 were both based on the ECA stack previously. They have been around for a long time, and have been reformulated several times as well. You can read our reviews of these diet pills here: