Stacker 3 Fat Burner Review
Stacker 3 and Stacker 3 XPLC Reviews
NVE makes a popular weight loss supplement called Stacker, and within the Stacker fat burner line, there are various different products. There's stacker 2 and 3, and there are also different versions of these available as well. There's Stacker 2 ephedra free and an XPLC version. For Stacker3, there's a version with chitosan, and also an XPLC version. We will be reviewing both here.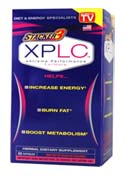 Since there's a XPLC version of both Stacker 3 and 2, you may wonder what's the difference between them? Honestly, not a whole lot! Looking at the ingredient list carefully, you'll see that there really isn't any difference between these two versions. They contain basically the same ingredients, with the only major difference being that Stacker 3 XPLC appears to be a "Lite" version of Stacker 2 XPLC. The proprietary blend for stacker2, which contains all the active ingredients, is 255mg, compare that with 195mg for Stacker3. The only other difference here is that Stacker 3 contains 200mg caffeine compared to 150mg for Stacker2.
The key active ingredients in Stacker 3 XPLC are yohimbine, yerba mate, camellia sinensis, capsaicin, and caffeine. As stacker2 XPLC contains the same ingredients, we won't go into too much details about these ingredients here. You can read about it all in our Stacker 2 review here. The key ingredients in this XPLC formula are capsaicin, camellia sinensis (tea), and caffeine. Studies have found the combination of these 3 ingredients to produce weight loss results - energy intake is reduced, hunger is suppressed, and energy expenditure is increased. Please do read about all this in more detail in our other article to gain a better understanding.