Stacker 2 Ephedra Free Review
Fat Burner Stacker Reviews
The Stacker diet pills have been around for a long time. Long enough to have been originally formulated with the ECA stack that contained ephedra. Since the ban of ephedra, a new version called ephedra free stacker 2 had been released. And indeed, this formula does not contain ephedra, and has undergone various changes over the years. There is also a Stacker 2 XPLC version, and you can read our review of it as well. You may wonder what's the difference between these two different versions? We reviewed the XPLC version in detail in the other article, and here, we will review the ingredients contained in the ephedra free version in detail.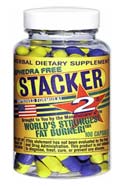 Just a quick note, the very early version of stacker 2 ephedra free formula contained various ingredients such as kola nut, caffeine, citrus aurantium, cassia mimosoides, white willow bark, green tea, gymnema, and guggulsterones. As mentioned already, this formula have had some minor changes to its ingredients over the years. We'll review it here, and you can then see what some of the changes were.
Stacker Side Effects
Before we get on with the ingredients, let's just discuss some potential side effects of stacker 2 ephedra free. This is a stimulant based diet pill and it will have various possible side effects. As everyone is different, what you experience will be different from someone else. Some users may notice no side effects of stacker 2, while others may experience various side effects, and some of these include:
Increased blood pressure
Increased heart rate
Headaches, light-headedness and dizziness
Loss of appetite
Feel restless, jittery, and shaky
Feel nervous and easily excited
Have trouble sleeping at night
These are just some of the common side effects you may or may not experience.