Xyience NOX CG3 Review
Xyience NOX-CG3 Reviews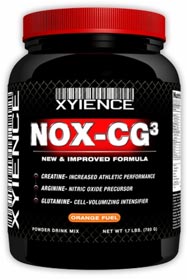 I finally finish by canister of NOX CG3, and I'm actually glad that I'm done with it. I have to say that this is a first for me - in terms of being glad to be done and over with a supplement. Well, I guess there is one other unforgettable exception a few years back, which was by far worse - the Pinnacle Juiced Protein fiasco I went through. While my experience with NOX CG3 isn't all bad, it wasn't up to par comparing to other similar supplements I've used in the past.
I've used plenty of creatine and NO matrix supplements such as BSN NO-Xplode, San V12, and Universal Animal Pump, just to name a few - some of them several times over - but for the Xyience NOX CG3 that I've just finished, I have to admit that I was rather disappointed with my experience with it, and will probably not be using it again. I've used some Xyience supplements before, such as their Xyience Xenergy energy drink, which worked out okay for me. While I didn't expect anything thing exceptional from NOX CG3, I was expecting a better overall effect than what I had experienced.
If you have used this supplement, please share your review of Xyience NOX CG3 here.
Xyience NOX-CG3 400g Review

In the popular creatine and NO matrix supplements category, there are no shortage of products. Most are rather similar with similar ingredients and you'd expect similar results with these products. Out of the many creatine / NO matrix supplements, there are a few standouts, and then there are a few that aren't quite up to par. Obviously, please keep in mind that this is simply my personal opinion based on my experience using these different supplements. So, even though I can't find much positive to say about NOX CG3, you might actually have much better luck than I did with it.
Xyience NOX CG3 Nutrition Facts:
Serving Size (scoop) 1
Servings Per 30
Calories 22.5
Total Carbs (g) 5.5
Dietary Fiber (g) 5
Sugars (g) 1
Niacin (mg) 5
Ingredient Details:
Advanced Creatine Complex: 2.5g (Creatine Ethyl Ester, Creatine Monohydrate, Creatine Alpha-Ketoglutarate, Tri-Creatine Malate)
Polydextrose: 6g (Creatine Cellular Transport System)
Advanced Amino Acid NO2 Pump Complex: 1.5g (Arginine Alpha Ketoglutarate, L-Arginine HCl, Ornithine Alpha Ketoglutarate, Arginine Ketoisocaproate)
Tri-Glutamine Complex: 1.5g (L-Glutamine HCl, L-Glutamine Alpha Ketoglutarate, N-Acetyl-L-Glutamine)
L-Taurine: 1.5g
The key ingredients in NOX CG3 are the creatine complex, which contains several different forms of creatine, AAKG, Glutamine, and Taurine.