Genr8 Vitargo S2 Supplement Review
Very Expensive Carbohydrates, Is It Worth It?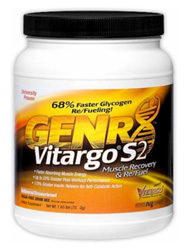 Speaking of pricey carbohydrates, I honestly can't think of another product on the market that costs more than the Genr8 Vitargo S2 supplement, where one serving of this stuff will cost you around $3 or more. What's in it you ask? Well, it's just pure carbs, expensive ones at that!
When it comes to sports supplements and macronutrients, carbs are probably the cheapest of the lot where you can get various types of carb supplements for around $2 to $3 a pound. Now you compare it to something like Vitargo S2, one serving is 70 grams, so for about a pound of the average carbohydrates, you get 70 (0.154lb) grams of Vitargo.
So exactly what is it about Vitargo that makes it so expensive, to be able to charge such a large premium compared to other types of carb supplements? And really, is it worth it to spend around $3 per serving on this stuff? This is certainly pretty expensive! Well, we're going to discuss Vitargo in some detail here and explain what it's major qualities and benefits are.