MuscleTech Cell Tech Creatine Review (part 1)
The Low-Down On MuscleTech Cell Tech and Nitro Tech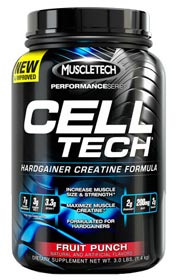 Practically everyone's heard of MuscleTech Cell Tech and Nitro Tech - heck who wouldn't have? You see its multi-page, colorful, and extremely hyped advertising in the bodybuilding magazines! In the end, who doesn't by into hype, and jump on the band wagon and buy a tub or two of cell tech? I sure did. That was quite awhile ago, and I did it to see if all the hype holds any substance.
MuscleTech is a great maker of supplements, no doubt about it. Their fame mainly rides from their best seller Hydroxycut that has helped millions lose fat and weight. And all their other products are nice quality products too, but mostly over priced if you ask me. Of all their supplements, Cell Tech and Nitro Tech are the most hyped and over priced.
So, behind all the hype and ridiculous pricing, does cell tech and nitro tech work? Of course they work, you'd be seriously mistaken to think MuscleTech would make something so expensive that doesn't deliver results. I won't go into Nitro Tech in detail here, since we got a review of Nitro Tech here. So many people has bought into the hype of Cell Tech and Nitro Tech (myself included) - so do I think its worth blowing cash on? Not really.
This is a 2 part review series of Cell Tech, in quite some detail.
Cell Tech Taste Review
A quick little blurb about Cell Tech's taste - it comes in 4 flavors, orange, grape, fruit punch, and lemon lime. I like orange, so that's the one I tried, and the taste is actually really good! For those of you that really care about taste, you should enjoy Cell Tech taste. Most other people who's taken Cell Tech also enjoys the taste. Now on with the good stuff.