Top Ranked Creatine and Carbohydrate Formulas (2)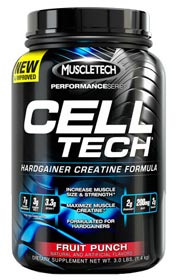 In the previous part, we compared a few of the top brands for pure creatine monohydrate, mostly in the form of micronized creatine powders. In that comparison, the Dymatize brand came out on top for being the most cost effective. However, as we mentioned, most pure creatine powder supplements are priced very similarly within a pretty close price range, so while some are more cost effective, the differences in pricing isn't all that great. If you had a preference for a certain brand of pure creatine powder, you probably wouldn't be paying all that much extra compared to the most cost effective one such as Dymatize creatine.
Now, when it comes to creatine and carbohydrate formulas, the price differences can become quite large. While the products we compared are quite similar, in that the primary active ingredients are simply creatine and carbohydrates (with some product including various additional ingredients), the pricing differences can be night and day between the most cost effective and the most expensive supplements. For example, if you compared EAS Phosphagen HP to Gaspari SizeOn, the price difference is significant.
Creatine Transport Formulas

The addition of carbohydrates created an entirely new line of creatine supplements. When carbohydrates, such as dextrose, are consumed, it creates an insulin response in your body. It leads to a quick increase in your blood sugar levels, and this causes your body to release insulin. The insulin sends the excess blood sugar into your cells bringing blood sugar level down to normal. In this same process, creatine that is consumed also gets fed into your cells. This is basis on which creatine and carbohydrate supplements are built upon.
In the comparison table below, you'll notice that we also include a column for the amount of carbohydrates per serving. Again, the comparison is based solely on price effectiveness to determine which creatine formula gives you the biggest bang for your buck. So let's take a look.