Gaspari Nutrition Superpump Max Review
Gaspari Super Pump 250 Reviews (1)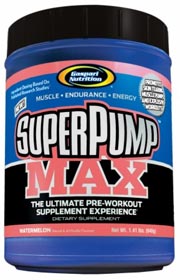 Once in a while, a new type or category of supplement is introduced to the sports nutrition industry that's really considered revolutionary - for example, when creatine was popularized in the late 80's or early 90's, it was "the supplement" that everyone talked about in the gym. Soon afterwards, more groundbreaking creatine supplements were introduced that took it to the next level - supplements such as Muscletech Celltech (a carbohydrate creatine mix), or Kre Alkalyn creatine (pH buffered creatine), or CEE (ethyl ester derivative of creatine), and so on...
After creatine, there came nitric oxide, discovered in the 1980's, which was every bit on the same level as creatine in creating an entirely new line of sports supplements that greatly enhanced performance. At first there were pure NO (nitric oxide) supplements such as MRI NO2. Then NO matrix supplements came on the market such as BSN NO Xplode, which is a combination of NO, creatine, and typically with some form of stimulant such as caffeine.
Then, once in a while, a supplement comes on the market and delivers exceptional results, and the Gaspari Nutrition Superpump 250 is one such supplement that stands out among the many NO2 matrix supplements out there on the market. Share your review of Superpump 250 here.
Gaspari SuperPump250 Ingredients

Super Pump 250 claims to significantly increase lean mass and strength, while reducing body fat percentage at the same time; it causes rapid full body pumps, stimulates vascularity, improves acute mental focus, and is independently tested for its effectiveness. We'll cover these points in this review. Below is a list of the ingredients:
Gaspari Nutrition Superpump 250 Ingredients
Calories 24
Calories From Fat 0
Total Fat 0g 0%
Saturated Fat 0g 0%
Trans Fat 0g 0%
Cholesterol 0g 0%
Total Carbohydrates 6g 2%
Sugars 0g
Protein 0g 0%
Vitamin B6(as Pyridoxine HCL) 25mg 1,250%
Folate (As Folic Acid) 420mcg 105%
Vitamin B12(as Cyanocobalamin) 140mcg 2,333%
Biotin 500mg 167%
Phosphorus (As Sodium Phosophate, Potassium Phosphate, Magnesium Phosphate) 150mg 15%
Magnesium(Phosphate & Oxide) 100mg 25%
Sodium 135mg 6%
Potassium 90mg 3%
SuperPump250™ Proprietary Blend 14,701mg
[Gaspari Nutrition Novel Compound #250 (Patent Pending)]
Anabolic Signaling Complex™ (Patent Pending):
Glucose Polymer Blend, Creatine Monohydrate, NO2 Complex [L-Arginine, L-Arginine Alpha-Ketoglutarate (A-AKG), L-Arginine Ketoisocaproate (A-KIC)], Guanipro™ (Guanidino Propionic Acid), Salicyclic Acid 15%, Panax Ginseng Extract.
Myogenic Transcription Factor/Agonist™ (Patent Pending):
Taurine, L-Leucine, L-Glutamine, L-Valine, L-Isoleucine, L-Citruline AKG, Turkesterone (11,20 Dihydroxyecdysone From Ajuga Turkestanica Extract), Choline Bitartrate.
Lipolytic/Xtreme Focus Agent™ (Patent Pending):
L-Tyrosine, Methylxanthines (Caffeine), NAC (N-Acetyl-Cysteine), N-Acetyl-Tyrosine, Glucuronolactone, Rhodiola Rosea Root Extract (Standardized To 5% Total Rosavins), Ginko Biloba Extract.
Insulin Secretagogue Complex™ (Patent Pending):
Indole-3-Carbinol, 4-Hydroxyisoleucine (From Fenugreek Seed Extract), Cinnamon Bark Extract, Bacopa Monniera.
IntraSORB™ Rapid Absorption - Myo-Hydration Matrix:
Potassium Gycerophosphate, Magnesium Glycerophosphate, Alpha Lipoic Acid, Bioperine.
Like most other NO / creatine supplements on the market, Superpump 250 comes with several different matrices each with a long list of ingredients. These "complexes" of Gaspari Super Pump 250 include (and are patent pending): anabolic signaling complex, myogenic transcription factor, lipolytic/Xtreme focus agent, insulin secretagogue complex, and intraSORB rapid absorption. Below, we'll look at some of the key ingredients.