VPX NO Shotgun Review
NO Shotgun V3 Reviews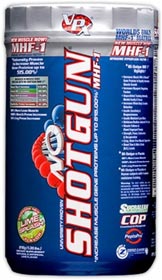 The VPX NO Shotgun supplement is a pre-workout creatine / NO matrix that also contains the fat burning combo from VPX Redline and Meltdown. If you've used any VPX products before, you'll know that VPX makes some quality supplements, and their products such as Redline is a seriously potent energy drink that you don't just want to mess around with! NO Shotgun contains several matrices including a protein matrix, BCAA matrix, muscle volumizing (NO2 / creatine) matrix, strength and endurance matrix, and a "Redline Energy & Meltdown Fat Burning Technology" component. As you can see, it sure contains a lot of stuff! Some 20g of proteins, 10g of NO2 / creatine matrix, bunch of amino acids, and on top of that, an energy component with fat burning ingredients (377mg)
There are plenty of NO / Creatine supplements on the market such as BSN NO-Xplode, Xyience NOX CG3, Universal Animal Pump, and many others not quite worth mentioning here. In fact, NOX CG3 isn't quite worth mentioning either. I've had plenty of experience using many of these supplements, and would have to say that Animal Pump and NO Shotgun are at the top of my list. On a side note, while on a related subject, when it comes to the best energy drinks, I would have to say that BSN Endorush and VPX Redline are clear winners. I will mention here early on that with these supplements, take half (1/2) serving for your first time! Very important! You need to assess your tolerance for these supplement, since they contain some very potent stimulants. Another energy drink I've really liked is the Ultimate Orange - unfortunately, it seems that it's been discontinued.
In this review, we'll take a quick look at some of the ingredients in NO Shotgun. If you've used NO Shotgun, please share your NO Shotgun Review here.
VPX NO Shotgun Supplement Ingredients

NO Shotgun is a NO2 / creatine matrix supplement that contains a large number of ingredients. These ingredients are broken down in to several different matrices of the supplement including a protein hydrolysate matrix, BCAA matrix, muscle volumizing (creatine / NO2) matrix, strength and endurance matrix, and an energy / fat burning matrix. The protein mix contains casein and whey protein hydrolysate, and ionic whey protein; the BCAA matrix contains a long list of amino acids; the muscle volumizing matrix contains citrulline malate, L-arginine malate, and several forms of creatine including creatine ethyl ester and creatine monohydrate; the strength and endurance matrix contains quite a few ingredients including Ketoisocaproic Acid Calcium (KIC), beta alanine, and creatine magnesium chelate; and finally, the energy and fat burning matrix contains plenty of caffeine. Below is a full list of NO Shotgun ingredients:
Calories ~81
Total Fat 0 0%
Carbohydrates 0mg 0%
Sodium 65mg 2.6%
Protein 20g 40%
Protein Hydrolysate Matrix Yielding 22% Glutamine Peptide, 21% BCAA Peptide, & 41% EAA's 9,660mg **
Casein Protein Hydrolysate
Whey Protein Hydrolysate
Ionic Whey Protein
Proprietary Branched Chain Ethyl Ester Amino Acid Matrix
L-Leucine, L-Valine, :-Isoleucine, L-Arginine, L-Valine Ethyl Ester, L-2-Aminopentanoic Acid (L-Nor Valine), L-Alanyl Glutamine, L-Arginine Ehtyl Ester Di-HCL, L-Isoleucine Ethyl Ester HCL, L-Leucine Ethyl Ester HCL
Proprietary Muscle Volumizing, NO2, Insulinotrophic Matrix 10,055mg **
Creatine Gluconate
CEX®(creatine ethyl ester HCL)
Creatine Taurinate
Creatine Monohydrate
COP® (Creatinol-O-Phosphate)
Di-Na Creatine Phosphate Tetrahydrate
Di-L-Arginine Malate
Citrulline Malate
Gamma-Butyrobetaine Ethyl Ester
Magnesium Tashinoate B
Bis Picolinato Oxo Vanadium (BPOV)
Gamma-Butyrobetaine
Power, Speed, Strength And Endurance Matrix
Beta Alanine/beta Alanine Ethyl Ester HCL
Guanidinopropionic Acid (GPA)
L-Histidine
KIC(Ketoisocaproic Acid Calcium)
Phosphates
Vitamin B6(Pyridoxine HCL- 250%
Creatine Magnesium Chelate
Redline Energy & Meltdown Fat Burning Technology 377mg **
L-Tyrosine
Caffeine Anhydrous
Beta Phenylethylamine HCL
Hordenine HCL
Folate(as Folic Acid)-100%
R-Beta-Methylphenylethylamine
Not much needs to be said about the protein and amino acid content here. You can read more about whey protein Hydrolysate here. In the BCAA matrix, one amino worth mentioning is the Leucine. Leucine is one of the 20 most common amino acids - Leucine is an essential amino acid. It is the most common amino acid found in proteins, and it is also essential for optimal growth in infants, and nitrogen equilibrium in adults. It is believed that Leucine plays a roll in maintaining muscles by equalizing protein synthesis and breakdown.