Creatine Ethyl Ester Review
What is Creatine Ethyl Ester HCL (CEE)?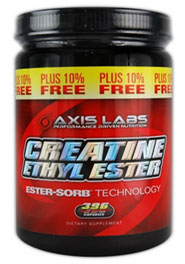 CEE is heavily promoted and hyped as being much better and more potent than Creatine Monohydrate. In simplest terms, it is creatine monohydrate with an ester attached. Some claims include:
Greater solubility in lipids leading to greater absorption rates
Stronger than other forms of creatine
Faster results than creatine monohydrate
Small doses that provide more results
Directly penetrates the muscle cell
No need for cycles
Sounds a little too good to be true? We'll find out as we present a list of various studies in this article below. First, we'll discuss what is creatine ethyl ester.
Creatine ethyl ester HCL is a derivative of creatine monohydrate (CM), sold as an athletic performance enhancer and promoted as being better than CM for building muscle and strength. It is an ethyl ester derivative of creatine - the ethyl ester is claimed to promote a much better absorption rate than regular creatine in the body. However these claims are not supported by scientific studies, and in fact some studies have actually found CEE to be less stable than regular CM. Yes, you read that correct - less stable than creatine.1 According to wikipedia, "the compound was developed, patented and licensed through UNeMed, the technology transfer entity of the University of Nebraska Medical Center, and is sold under numerous brand names."