Best Kre Alkalyn Creatine Supplements (3)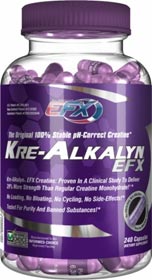 In the previous part, we compared creatine and carbohydrate supplements. Strangely enough the same product from EAS came in first and last in terms of price effectiveness. Well, almost the same product - basically the same product packaged differently with one costing half as much. In this third installment, we'll compare Kre Alkalyn supplements and other creatine supplements.
Research has shown that creatine's speed of conversion to creatinine is related to the pH of the liquid used for mixing. The lower the pH, the faster creatine converts to creatinine. It also found that conversion rate to creatinine slows as the pH of the creatine itself is raised above 7. At a pH of 12, creatine stops converting to creatinine. Kre Alkalyn Creatine is a pH buffered creatine with a pH above 12. As a result, it remains stable when mixed with liquid. What significance does this have for bodybuilding? With a buffered pH, the Kre Alkalyn we consume remains completely stable and reaches muscle cells at full strength. Read more about Kre Alkalyn creatine here.