EAS Betagen Review - Creatine + HMB + Glutamine = EAS Betagen
EAS Betagen Supplement Review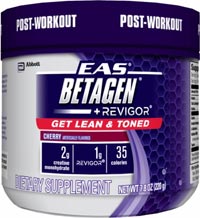 So what exactly is Eas Betagen? As the title says, Betagen contains just 3 key ingredients which are: Creatine Monohydrate, L-glutamine, and HMB. Of course, it also has a little bit of Taurine in it as well.
HMB (ß-hydroxy-ß-methylbutyrate) is a natural compound produced in the body in very small amounts, and it can be found in some foods like catfish and alfalfa. HMB is a metabolite of the amino acid leucine, and numerous studies have shown HMB to be a precursor of cholesterol. A very small portion of leucine in the body is converted to HMB producing about 0.2 - 0.4g of HMB per day. Read more about HMB here.
Glutamine is the most common amino acid found in your muscles - over 61% of skeletal muscle is Glutamine. Glutamine consists of 19% nitrogen, making it the primary transporter of nitrogen into your muscle cells. Read more about glutamine here.
Creatine is actually a nutrient found naturally in our bodies, and it's made from a combination of the three amino acids arginine, glycine and methionine. The main function of creatine is providing energy to your muscles for movements, especially quick and explosive movements. Read more about creatine here.
Below is a list of Betagen Ingredients:
Serving Size 1 scoop
Servings Per Container20
Calories 35
Total Carbohydrate 5g
Calcium 120mg
Sodium 5mg
Creatine Monohydrate 2g
L-Glutamine 2g
Calcium HMB 1g
Taurine 500mg