Universal Animal Pump Review
Animal Pump Supplement (Part 1)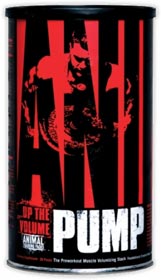 Universal Nutrition markets a popular line of "Animal" products that includes Animal Pak, animal stak, animal nitro, animal cuts, animal max protein, animal flex, animal test, and animal pump. We will be reviewing their Animal Pump supplement here. Universal Nutrition has made a good name for themselves making reliable products that delivers results. Don't just take my word for it, see our user reviews section on Universal Nutrition products, and see what others users have said about Universal's Animal products - click here to view the user reviews.
I've used a few of their Animal line of products in the past with great results, so when I picked up a 30 pack container of the Animal Pump, I was expecting much of the same quality and results. If you're familiar with their Animal supplements, you'll know that the defining feature of this line of products is that most of them are comprised of pills, and lots of them! Animal Pump is no exception. I think it is also an interesting fact to mention that it seems like many of these Animal products kind of stink (unpleasant smell), but by all means, don't let this turn you off from the Animal supplements, they are truly fantastic supplements.
Universal Animal Pump Ingredients

Universal Animal Pump is a pre-workout creatine matrix in what Universal calls a "foundational cell volumizer", and "nutrient transport system". Each container comes with 30 packs of pills, and each pack contains 9 (yes, nine) pills, including 4 yellow pills, 3 brown pills, 1 white pill, and 1 red pill. That sure is a lot of pills to swallow! Let's take a look at the ingredient details of Animal Pump.
Animal Pump Nutrition Facts:
Serving Size (packet) 1
Servings Per 30
Vitamin C (mg) 60
Selenium (mcg) 100
Ingredient Details:
Foundational Creatine Matrix 3000mg:
Magnesium Creatine Chelate (MCC)
Tricreatine Malate (TCM)
Creatine Ethyl Ester (CEE)
NO Blast Complex 2000mg:
Arginine Alpha-Ketoglutarate (Arginine-AKG),
Ornithine Alpha-Ketoglutarate (Ornithine-AKG),
Citrulline Malate,
L-Carnosine,
L-Norvaline.
Energy Rush Complex 500mg:
Methylxanthine Complex (caffeine, theobromine theophylline),
Evodiamine,
Vinpocetine
Antioxidant Complex 700mg:
Grape seed Extract (standardized for 95% OPC),
N-Acetyl Cysteine (NAC),
Green Tea Extract (standardized for 60% EGC),
K-R Alpha Lipoic Acid (K-R ALA)
Pump Transport Complex 1000mg:
Taurine,
Ginger Root Extract (gingerols, shaogols),
Cinnulin PF
4-Hydroxyisoleucine (20%),
Bioperine (piper nigrum extract standardized for a minimum of 95% piperine alkaloids)
Other Ingredients: Methylxanthine Complex (50% kola nut extract and 22% guarana extract), cinnamon root extract, evodiae fructus extract, fenugreek extract, vinca minor L. extract, gelatin, dicalcium phosphate, microcrystalline cellulose, titanium dioxide, stearic acid, magnesium stearate, FD&C Yellow.
Looking at the ingredients list, you'll see that Animal Pump is made up of 5 complexes:
Creatine matrix
NO complex
Energy rush complex
Antioxidant complex
Pump transport complex
While they do not tell you which pill contains what, they do label clearly that the energy rush complex is contained in the red pill. So if you don't want to take any stimulants for whatever reason, just remove the red pill. Let's take a look at what's included in these complexes.