San V12 Fuel Injection Turbo
San V12 Review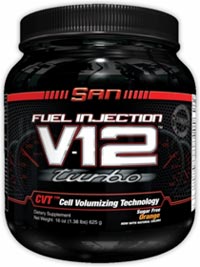 I have done 2 cycles of San V12 Fuel Injection - one was the original San V12 Fuel Injection awhile after it came on the market, and another cycle I used the newer San V12 Turbo, which replaced the original. I have to say that both times, I was quite impressed with the product, and its effectiveness, probably more so the second time around.
In a nutshell, San V12 is just a creatine product mixed with some taurine, and AAKG (or "NO2"), glutamine, and some other ingredients that work synergistically to give you more effective workouts, and even a "perpetual pump" as some users claim.
Perpetual pump? Well, I for sure can't say that I ever felt a Perpetual Pump while using San V12; perhaps its more fitting for me to say that it was more of a "perpetual half pump" for me while using San V12. There was some noticeable increase in vascularity and pumps, but the "pump" from San V12 use is nothing like the pumps I get from lifting heavy weights - So I can't say it gave me "perpetual pumps". However, at normal times (outside of the gym) I did feel slightly more "pumped".
In the gym, it's a different story. V12 not only made me more pumped, at the same time, the creatine effects was almost immediate once I started using San V12 - meaning noticeable increase in endurance and energy output during workouts, allowing me to push more weights and push harder.
To me, I felt there was a noticeable difference between my 1st and my 2nd San V12 cycle, where during the 2nd cycle, I felt the V12 effects almost immediately within the first 2 or 3 days, whereas during the 1st cycle, I started feeling the effects after 4 or 5 days. (Note: I used the original for 1st cycle and the newer turbo version the 2nd cycle). Now, I can't say if its because the San V12 Turbo is better than the original, or simply its just my state of physical well being at that point in time. Who knows? =) In any case, both cycles worked well and I real like this creatine / AAKG product.