BSN NO Xplode Review
What is BSN NO XPlode Creatine Supplement?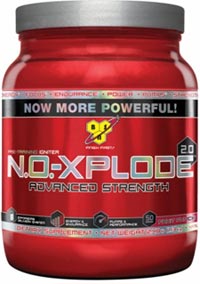 BSN's NO Xplode is just another nitric oxide boosting / creatine supplement like the hundreds that's already on the market... Or is it?
Not quite.
That's what I thought at first anyway, until all the user reviews that started pouring in on our reviews site - BSN NO-Xplode is by far the most reviewed supplement by users, with more than 1,100 reviews submitted by users like yourself. It is the single most popular reviewed supplement.
There's a interesting line up of ingredients in NO Xplode. Let's take a quick look:
BSN NO Xplode Nutrition Facts:
Serving Size (scoop) 1
Servings Per 40
Calories 36
Total Fat (g) 0
Cholesterol (mg) 0
Sodium (mg) 150
Potassium (mg) 75
Total Carbs (g) 9
Dietary Fiber (g) 0
Sugars (g) 0
Proteins (g) 0
Vitamin B6 mg 25
Vitamin B12 mcg 120
Phosphorus mg 500
NO Explode Ingredient Details:
NO-Xplode Proprietary Blend: 20,500mg, NO Meta-Fusion (patent pending) (L-arginine AKG, Citral-M (citrulline malate), L-citrulline AKG, L-histidine AKG, RC-NOS (rutacarpine 95%), gynostemma pentaphyllum (95% gypenosides), NAD (nicotinamide adenine dinucleotide). Muscle Volumizing Creatine Matrix (patent pending) 2CM (dicreatine malate), Betapure (trimethylglycine), Glycovol (glycocyamine), GuaniPro (guanidino proplonic acid), Cinnulin PF (aqueous cinnamon extract), keto-isocaproate potassium...