Optimum Nutrition Essential Amino Energy Review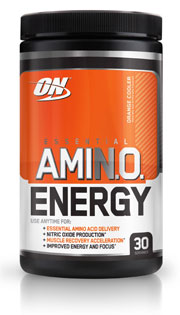 Looking for an amazing tasting BCAA energy drink that will give you a nice boost during your intense workouts? If so, then you've just found it with the ON Amino Energy drinks. As we had mentioned in our Xtend review, this and Xtend are our 2 favorite BCAA based workout drinks. The orange flavor of this is simply amazing.
This product contains different ingredients that combine to help boost your energy levels, build muscle, improve recovery, increase NO levels, and enhance mental focus. This does contain caffeine, so users with caffeine sensitivities should take note of that. Another notable addition is beta alanine, which we'll discuss as well.
On Amino Energy comes in 5 different flavors including blue raspberry, grape, orange, watermelon, and fruit fusion. First of all, all the flavors taste really good. My least favorite one is the blue raspberry, even though it's still quite good! My favorite by far is the orange flavor, and the watermelon taste comes in a close 2nd place. Of course, this is based on personal preference, and your choice will differ from mine. Overall, I don't think you'll be disappointed at all with its delicious flavors.