Scivation Xtend Supplement Review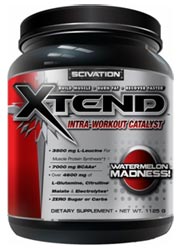 Xtend by Scivation is a sugar free BCAA (branched chain amino acid) supplement that's designed to enhance your workout performance. It contains a blend of 2:1:1 ratio of Leucine, Isoleucine, and Valine. In essence, you're consuming a pure BCAA product. To note though, there are 2 important additions to the formula which are electrolytes and citrulline malate.
I have 2 workout drinks that I like to use. One is Optimum's Amino Energy (gotta love the orange flavor), and the other is Extend - definitely go with the watermelon flavor. I actually keep both of these stocked up in my cupboards, and just alternate between them depending on what flavor I feel like. While this product has a simple formula, the consumption of BCAA is proven to greatly enhance recovery and improve exercise and workout performance. I'll cite a few studies in just a bit.