BSN EndoRush Sports Energy Drink Review (part 2)
In part one of our Endorush review, we looked at the active ingredients of Endorush in some detail. In this second part, we will discuss the performance of Endorush in real life.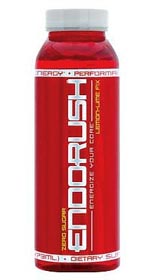 The technical aspect of Endo Rush sounds good and all in part 1, but what matters most is how well does it perform in real life? Like I said at the start of this review, they couldn't have picked a better name as Endorush - literally meaning a "rush within", and that's exactly what Endorush does and then some. I will illustrate this review with example of my own experience using endorush, and how it affected my workout performance.
If you've used Endorush, feel free to share your review of it here

My Review
Endorush - the first time
Endorush is very much a hardcore energy drink that I've found more potent compared to most other energy drinks I've tried. If Red Bull can be considered an energy drink, then Endorush will lay the smack down on Red Bull like nobody's business. Of course, this isn't really a fair comparison, since Endorush is targeted toward the true, hardcore gym enthusiasts, whereas Red Bull is more of a mass market type of energy drink.
Each bottle of Endo Rush is 16oz, or 473ml, and each bottle contains 4 servings with each serving size being 4oz, or 118ml. I would highly recommend reading the bottle instructions carefully before taking this. You could be asking for trouble drinking an entire bottle in one sitting.
I'm generally quite cautious when it comes to supplements containing stimulants, so I took only one serving (1/4 bottle) my first time right before I went to the gym. At the same time, I'm not a big guy. Within minutes (yes, minutes), I was feeling the effects of the energy drink. My heart started beating faster, and a rush of energy hit me. Although I did not experience much of a pump from Endorush, the massive energy boost gave me this overwhelming desire to start tearing it up in the gym. That feeling is rather difficult to explain... Now, let me describe my second time.