BSN Endorush Review
Endorush is One Energy Drink That Will Knock Your Socks Off!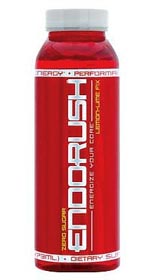 Endorush, a fitting name for a sports energy drink that does exactly what its name suggests - literally meaning "rush within" (endo rush). BSN has always been a dependable manufacturer delivering supplements that rarely disappoint such as their ever popular no xplode, cell mass, nitrix, and so on. Their energy drink Endorush is no different - it will not disappoint or let you down, it will only deliver truly amazing results, kick your @$$ in high gear for the gym, and it does everything suggested by its name (Endo-RUSH), and then some...
Did that last sentence there just sound like a cheap marketing slur to you? Sure did to me! =) Maybe because I got a little too excited about this product. Of the various energy drinks I've tried, BSN Endorush is one of the better ones, if not THE best.
In this review of Endorush, we're going to first take a close look at some of the active ingredients in Endorush to get a better understanding how it all works, and then share with you in some detail my personal experiences using Endo Rush.
BSN Endo Rush Review - The Ingredients
Nutrition Facts:
Serving Size (oz) 4
Servings Per 4
Calories 3
Sodium (mg) 15
Potassium (mg) 30
Vitamin B2 (mg) 3
Vitamin B3 (mg) 13
Vitamin B6 (mg) 25
Vitamin B9 (mg) 400
Vitamin B12 (mcg) 250
Magnesium (mg) 25
Calcium (mg) 50
Phosphorus (mg) 18
Ingredient Details:
EndoRush Proprietary Matrix 5g: NoX Fusion™ (L-Arginine AKG, Citrulline Malate, L-Citrulline AKG, L-Histidine AKG, RC-NOS(rutaecarpine 95%), Gynostemma Pentaphyllum(95% Gypenosides))
Ener-Tropic Rush™ (L-Tyrosine, L-Tyrosine AKG, Taurine, Glucuronolactone, Methylxanthine Blend (Caffeine Anhydrous and Caffeine AKG) Vinpocetine 99%, Vincamine 99%, Vinburnine 99%)
Glycerol Hydrating Polymers
Phospho-Electrolyte Replacers
I'd like to point out that each bottle of Endorush contains 4, yes, FOUR, servings! So a case of 12 will serve up 48 servings! The above is a list of the active ingredients in Endorush. What we're interested in is the "EndoRush Proprietary Matrix NoX Fursion" and "Ener-Tropic Rush" blends.