Xyience Xenergy Review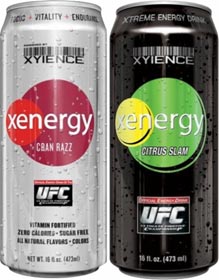 The Xenergy drink by Xyience supplements is a sugar free energy drink that has zero calories. It's marketed as an energy drink that helps to improve mental focus and increase physical endurance. Unlike some of the other more training oriented drinks like Endorush or Endurox, Xenergy is meant to be taken anytime during the day for any situation - be it for work, studying, or sports.
As well, its bottling design is not really optimal for a workout energy drink. Xenergy comes in tall, sleek looking tin containers that holds 473ml. I don't imagine anyone would want to carry one of these with them around the gym when there are other more convenient drinks available.
As well, it doesn't quite measure up to the massive energy boosting effects of BSN Endorush, nor does it offer the caloric input of Endurox or Accelerade for your workouts. Hence, Xenergy has its place as a zero calorie energy drink that helps improve mental focus and endurance.
Xyience Xenergy Nutrition Facts
Serving Size: 16 fl. oz.
Calories: 0
Niacin 40 mg (as Niacinamide)
Vitamin B6: 10 mg
Vitamin B12 10 mcg
Sodium 400 mg
Proprietary Blend 2.7 g: Taurine, glucoronolactone, caffeine, guarana extract, panax ginseng extract, inositol, l-carnitine.
Xenergy contains some pretty standard energy boosting ingredients such as caffeine, guarana (caffeine), ginseng, and taurine. Caffeine in humans ia central nervous system stimulant, that helps ward off drowsiness, and improves alertness. Guarana is the herbal form of caffeine. It's a plant with large leaves and clusters of flowers.