Creatine Monohydrate
What is creatine Monohydrate? Is it for you?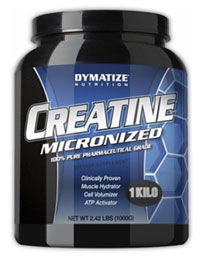 Creatine is such common place now you'll see and hear many people taking it and talking about it. If you've never heard of, or used creatine (monohydrate) before, you'll find all the key information you need right here. This is the first part of a series of articles to educate you about creatine and its uses.
So exactly what is creatine? It is actually a nutrient found naturally in our bodies, and it's made from a combination of the three amino acids arginine, glycine and methionine. The main function of creatine is providing energy to your muscles for movements, especially quick and explosive movements. Your body gets its creatine from food and/or supplements. You can imagine then, that taking extra creatine monohydrate (CM) will help you out during workouts. Read more about benefits of creatine in this article.
See our complete creatine guide here.
How Does Creatine Monohydrate Work?
Simply speaking, creatine increases the energy of your muscles. It does this by increasing the amount of ATP. Because your strength depends on ATP, supplementing creatine enhances your strength.
In a more detailed description, ATP is the initial fuel for your muscle contractions. (ATP stands for adenosine triphosphate.) The ATP provides energy by releasing a phosphate molecule, and it then becomes ADP (adenosine diphosphate). See how the name went from triphosphate to diphosphate? This just means it has 2 instead of 3 after losing 1.