Kre Alkalyn Creatine Review
What You Need to Know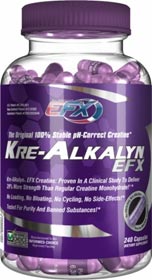 Kre Alkalyn creatine has been on the market for awhile now. Although many have probably tried this new form of creatine, many more probably still have not. I was originally introduced to Scifit's Kre Alkalyn 1500 creatine caps by my contact at Sci-Fit - of course I've heard of kre alkalyn creatine long before that time, however, I was skeptical, and didn't pay much attention to it.
At that time, how could I believe such claims that:
Taking 1g of Kre Alkalyn creatine is equivalent of taking 10g of normal creatine, and
Kre Alkalyn creatine is stable in water because its PH buffered!
I didn't believe these claims, and didn't bother to. My initial thoughts were "just some new marketing scam... etc." I remember some representative of Kre Alkalyn (not sure if this person was from a licensed company, or from the direct manufacturer) that came on our chat boards promoting Kre Alkalyn creatine - boy, did he get a face full of dirt. =)
Long story short, I was convinced to give KreAlkalyn Creatine a shot, and after that, I really had to change my views on this new type of creatine.
What is KreAlkalyn Creatine?
Kre Alkalyn was discovered by Jeff Golini, who also discovered Arginine Alpha Ketoglutarate (AAKG), a nitric oxide amplifying agent. Jeff introduced a new product testing technology called NIR (near infrared analysis), which is now heavily used in the pharmaceutical and supplement industry. Kre Alkalyn Creatine was discovered while doing routine purity and stability tests on creatine using NIR. Kre Alkalyn was eventually awarded US patent #6,399,661.
The research provided to receive this patent had shown that creatine's speed of conversion to creatinine is related to the pH of the liquid used for mixing - I'm sure most of us know that creatine breaks down to creatinine when mixed in liquid, which is a useless compound. The research demonstrated that the lower the pH, the faster creatine converts to creatinine, and it also found that conversion rate to creatinine slows as the pH of the creatine itself is raised above 7. At a pH of 12, creatine stops converting to creatinine.
So essentially, Kre Alkalyn Creatine is a pH buffered creatine with a pH above 12. As a result, it remains stable when mixed with liquid. What significance does this have for bodybuilding? With a buffered pH, the Kre Alkalyn creatine we consume remains completely stable and reaches muscle cells at full strength.