Gaspari Super Pump 250 Review & Side Effects(2)
Gaspari SuperPump Max

Supplement Study Results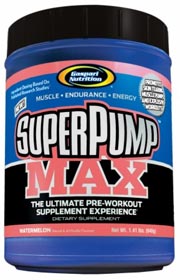 In part 1 of our Superpump 250 review, we discussed this supplement in some detail including discussions about some of its ingredients. Below we'll look at a clinical study done on superpump 250.
Almost every supplement on the market today will make certain claims to its benefits and effectiveness for its intended purpose; however, it's not often that a supplement maker will back up their claims with clinical studies, and in some cases where there are so called "studies" to prove the results, the studies are usually not published in peer reviewed journals and therefore hold little weight. With the large number of supplements that we use on a regular basis, and the research we do on these supplements, we generally look very favorably upon supplements with supporting studies that are published in peer reviewed journals, and Gaspari Nutrition's Superpump 250 is one such supplement.
To reiterate, some of the claims of Super Pump 250 include:
Significant Increases in Lean Mass & Strength
Causes Rapid and Measurable Full Body Pumps
Stimulates Roadmap Vascularity
Triggers Explosive Energy and Acute Mental Focus
Simultaneously Reduces Body Fat Percentage
Below, we'll look at a Gaspari Superpump 250 study published in the Journal of International Society of Sports Nutrition (JISSN). Note and study disclaimer: this study was supported in part by a research grant from Gaspari Nutrition; however, none of the authors has any conflict of interest.