MuscleTech CellTech Creatine - CellTech Review & Info (part II)
CellTech and Insulin - What Does It Matter?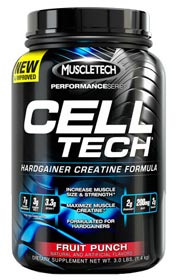 In part I of our MuscleTech Cell Tech Review, we briefly mentioned the importance of insulin and how it's connected to Cell Tech's formula design, now we'll take a closer look at insulin and how it plays an important part in Cell Tech's formula and the crazy 75g of dextrose per serving in CellTech. ;-) I know a little (the basics) about insulin and how it works, but I'm by no means an expert on this topic, but let's just go over some basics about insulin, and you'll see how it works with CellTech.
Insulin is actually a hormone secreted by the pancreas in response to changes in your blood sugar levels - so its very much dictated by the foods you eat. A lot of cells in your body has these insulin receptors that binds to insulin when its in circulation, and these receptors absorb the glucose from the blood into the cell.
Since insulin is so closely tied with glucose (blood sugar levels), you can imagine how much you can affect your insulin levels thru the foods you eat. Now you're probably wondering what the heck does insulin have to do with Cell Tech? Simply put, MuscleTech designed CellTech to cause a surge in your body's insulin levels (a insulin spike) to make creatine absorption into the cells much more efficient. And it works.
To understand this, you need to know that there are 2 types of carbs, simple carbs and complex carbs - actually, there's something like 5 kinds of carbs as said in part I, but to keep it simple, we'll just use simple and complex carbs.
Simple carbs - as the name says - is in its most basic form, and requires no further digestion when ingested. Dextrose, used in Cell Tech, is a simple carbohydrate. Complex carbohydrates, needs to be digested and broken down before they can enter the blood stream - hence, complex. Bread, pastas, and rice are some examples of popular sources of complex carbohydrates.