Universal Animal Supplements Review
Animal Pump Energy Rush Complex (Part 2)
If you missed the part 1 of our Animal Pump review, read it here.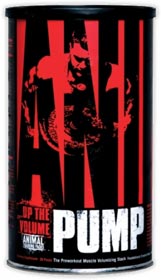 The energy rush complex of Animal Pump is contained in the single red pill as clearly labeled on the container. Should you not wish to take any stimulants, you can simply not consume the red pill. The energy rush complex consists mostly of stimulants such as caffeine. From the animal pump FAQ I read, the amount of caffeine contained in a serving of Animal Pump is equivalent of about 2 cups of strong coffee.
Animal pump also contains Evodiamine, which is a major alkaloidal principle of Evodia fruits, and has been shown to reduce fat uptake in mouse studies. It is believed that its mechanism works similar to that of capsaicin from red chili peppers, but it does not have the spicy taste of chili peppers. Chinese literature refers to Evodia fruits as a "hot nature" herb. At this point, however, studies have been done on mice, showing that Evodiamine helps in fighting obesity [6]. I'm unaware of any studies that have been performed on human subjects.
Vinpocetine - is a semi synthetic derivative of vincamine, which is extracted from the periwinkle plant. It increases cerebral blood flow and is said to improve memory.

Antioxidant Complex
Nitric Oxide being a free radical has both Pro- and antioxidant properties. It can protect against oxidative injury. Nitric Oxide can both stimulate lipid oxidation and also mediate oxidant protective reaction in membranes. [7] In short, nitric oxide can be both pro-oxidant, and antioxidant. To combat NO's effect in promoting free radical release, Universal Nutrition included the antioxidant complex which includes ingredients such as grapeseed extract, green tea extract, N-Acetyl Cysteine, and ALA (alpha lipoic acid) - all of which have inherent antioxidant functions.
Grape seed extract - is a natural plant substance that has a concentrated source of oligomeric proanthocyanidins (OPC). These anti-oxidants help protect cells from free radical damage and also promotes healthy circulation. Grape Seed Extract is rich in polyphenols, a compound that's high in antioxidants. Studies have shown OPC to be more powerful antioxidants than vitamin C, E, and beta-carotene. Read more about grape seed extract here.