Endurox R4 Recovery Drink Review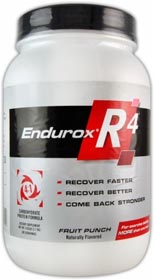 Endurox R4 made by PacificHealth Labs is a sports recovery drink that aims to help replenish glycogen stores, reduce exercise induced muscle damage, and induce a greater insulin response. It's based on what Endurox calls the 4 to 1 ratio of carbs and protein science that leads to better hydration, increased endurance, and improved post exercise muscle recovery compared to carbohydrate drinks alone - namely, for every gram of protein, there are 4 grams of carbs.
These claims are backed up with numerous scientific studies that demonstrate the benefits of a protein / carbohydrate drink compared to pure carbohydrate drinks alone. There are studies done not only on protein-carbohydrate mixes, but also done on Endurox itself to compare its efficacy versus a leading carbohydrate drink. We'll get to these studies in a bit. First, a look at the ingredients of Endurox R4.
Endurox R4 Ingredients
As previously mentioned, the main ingredients in Endurox R4 are protein and carbohydrates in a 4 to 1 ratio. See below:
Serving Size: 2 rounded scoops (75g)
Servings Per Container: 14
Amount Per Serving
Calories 270 Calories from Fat 10
% Daily Value*
Total Fat 1g 1%*
Saturated Fat 0g 0%
Cholesterol 10mg 3%
Sodium 210 mg 9%
Potassium 120mg 3%
Total Carbohydrate 52g 17%*
Dietary Fiber 0g 0%
Sugars 40g **
Protein 13g
Magnesium 60% Vitamin C 780%
Vitamin E 1330% Calcium 10%
L-Glutamine 420mg **
*Percent Daily Values are based on a 2,000 calorie diet.
**Daily values not established.
INGREDIENTS: Dextrose, whey protein concentrate, complex carbohydrates, fructose, sucrose, citric acid, magnesium carbonate, natural flavor, ascorbic acid, sodium chloride, L-glutamine, vitamin E acetate, lecithin, monopotassium phosphate, FD&C red 40.
Glutamic Acid + L-glutamine 2.6g/serv
Branched Chain Amino Acid 2.7g/serv
As you can see, each serving of Endurox R4 contains 13g of protein along with 52g of carbohydrates, a precise 4 to 1 ratio. The suggest use is immediately after exercise. I would suggest taking this as the bottle instructions, and plus another scoop or two of whey protein afterwards. 13g of protein per serving is a little on the light side, and I generally take another shake with 2 scoops of whey to get a little more whey protein post workout.