Universal Animal Pak: One of the Best Multi Vitamins for Bodybuilders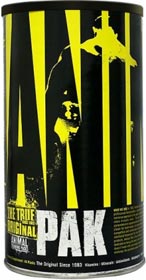 Animal Pak is one of the flagship products from Universal Nutrition. At first glance, one might easily think to themselves "What's so special about Animal Packs?" - after all, it is just a package of vitamin and mineral pills. You'd think that any good ol' multi vitamin can replace the Animal Pak. It's not until you dig deeper, or have used it yourself before you begin to realize that this is something that was fundamentally missing in your cabinet stacked with supplements. Don't just take my word for it, see what other users have to say about animal Pak in our reviews section, and if you've used it, drop us a line over there.
Universal Animal Pack has had a rather long and successful history ever since it was introduced to the market in 1983. The premise of many of Universal Nutrition's "pack system" products is that instead of trying to mix together multiple ingredients in one product, they combine various ingredients into different types of pills, tablets, capsules, softgels with different coatings to increase or decrease absorption rates. Since it was introduced back in the early 1980's, Animal pak has been widely used by bodybuilders, powerlifters, and fitness enthusiasts, for the simple reason that it works.