How Does Controlled Labs Orange Triad Multivitamin Compare to Animal Pak?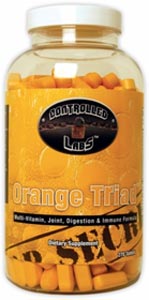 There are plenty of multivitamin supplements on the market. But when it comes to choosing a multivitamin for the serious athlete, there are really just 2 choices that I would go for, and they are 1) Universal Animal Pak, and 2) Controlled Labs Orange Triad Multi's. These are the two main multi vitamin supplements that I like to use - they have many similarities, and they also have some key differences as well. So here, we have a review mainly for Orange Triad, and we'll also cover some of the differences between Orange Triad vs. Animal Pak.
For serious athletes that train hard on a day-to-day basis, their nutritional needs are much greater than the average person. To maintain optimal physical conditioning for heavy lifting and training, you need to provide all the nutrition that your body needs, and a good multivitamin supplement is an important piece of the puzzle. With good multi's such as Animal Pak and Orange Triad, you don't really realize what you've been missing out on until you've tried them.
Sure, you might be able to perform relatively well with or without an average, run-of-the-mill multivitamin, but once you try either of these two aforementioned vitamin supplements, you'll feel the differences. Research has shown that strength training athletes and bodybuilders have much higher nutritional needs due to their highly intense training programs, and they have a much higher potential for nutritional deficiencies. It is supplements such as Animal Pak and Orange Triad that help eliminate those nutritional gaps.