Pump Up Your Workout With BSN Nitrix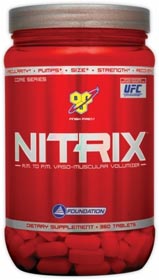 Nitrix is another one of the many popular BSN supplements. It's similar to the very popular NO-xplode containing L-Arginine Alpha Keto-Glutarate (AAKG). The main differences being that NO-xplode contain various other ingredients such as creatine and several synergistic ingredients that help to raise NO levels including Citrulline Malate, Rutaecarpine, and Gynostemma pentaphyllum.
BSN Nitrix is a pure AAKG supplement with little else added other than a controlled release additive, and some dicreatine malate. With all else considered, there probably isn't that big of a difference between Nitrix and NO-xplode. NO-xplode is intended for pre-workout, which should give you an energy and strength boost, more focus, and a good pump. Nitrix is meant to be taken 3 times a day, to increase blood flow and give you a good pump.
Another thing that does come to mind is that while both will likely give you a good pump and increased vascularity (more veins), NO-xplode will probably give you somewhat of an energy boost as well. BSN NO-explode shares quite a few key ingredients with Endorush (BSN's energy drink) - if you're looking for a energy drink, I highly recommend trying Endorush.