USP Jack3d - Top Pre-Workout Supplement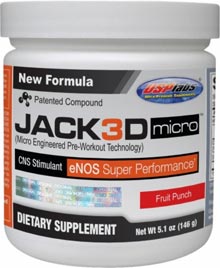 A lot has been said and written about USP Labs Jack3d supplement, and it is definitely one of the most popular and top rated pre-workout and workout supplements on the market. So why is Jack3d 3d so popular, and what makes it so effective? In our USP Jack3d review here, we'll get into some details about this pre-workout supplement, and also go in some details about the ingredients contained.
Currently on the market, there's no shortage of pre-workout supplements that are designed to help increase your strength, energy, endurance, stamina, focus, and allow for much higher intensity workout sessions. There are literally dozens if not hundreds of rather similar pre-workout supplements, and some better products that come to mind include BSN NO-xplode, White Flood, Cellucor C4, Cellucor M5, Superpump 250, Animal Pump, VPX NO Shotgun, Musclepharm Assault, and BullNOX Androrush just to name a few of them.
When you look at some of these pre-workout supplements, you'll notice a lot of similarities in their ingredient contents, and you'll quickly notice that there are several key ingredients that are most often used. You'll also find a handful of these pre-workout supplements to contain an obscene amount of ingredients, and wonder "just what's up with all these ingredients, and with so many ingredients, exactly how much of each are you really getting?"
This is where USP Labs Jack3d creatine supplement sets itself apart from the competition. It is marketed as an "ultra concentrated" pre-workout supplement that's light on the number of ingredients contained, but heavy on the hard-hitting, effective ingredients. Below, we'll take a more detailed look at what's contained in Jack3d 3d.