Turbo Boost Your Workouts With White Flood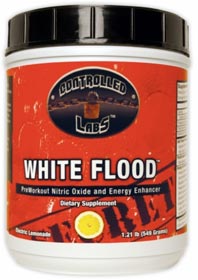 White Flood by Controlled Labs is a pre workout supplement that was designed to be fast acting to help increase endurance, energy, pumps, and strength for your workouts. It is also a carb free supplement containing zero calories. One of the major draws of White Flood is its cost effectiveness, and when you compare its cost per serving to similar products in the market, you'll see that it offers very good value for what you are paying, and I think this is a big factor many people put to consideration when choosing supplements. You can get 100 servings of this stuff for just a tad over $40, which works out to just $0.40 per serving. This was a definite big plus for me.
Value and cost effectiveness is definitely something I consider seriously when deciding on what supplements to use. After all, we all want to stretch our hard earning dollars as much as we can. While I'll try most supplements at least once, whether I use those supplements again depends largely on its effectiveness, and its cost and value. And Controlled Labs White Flood is one of those supplements that I like to use time after time, simply because it gives great value, and it is an effective pre-workout supplement.
Below is a list of White Flood ingredients:
1 Serving Sample (Powder)
Serving Size1Packet
Servings Per Container1
Amount Per Serving % DV*
Calories 0
Calories From Fat 0
Calcium(as Calcium Silicate) 113mg 11%
Potassium(as Gluconate) 18mg 1%
Folate(as Folic Acid) 125mcg 31%
Selenium(as Selenium Amino Acid Chelate) 50mcg 71%
ENO Flood Complex™ 1,500mg †
Arginine AKG (1100 Mg), Ornithine AKG (400mg)
FlooDurance Complex™ 1,200mg †
Beta Alanine (850 Mg), L-Tyrosine (350 Mg)
Energy & Antioxidant Flood Complex 1,913mg †
Inosine, Gamma-Aminobutyric Acid (GABA), Glucuronolactone, Natural Caffeine, Potassium Gluconate, Cocoa Bean (Extracted For 99% Theobromine), Evodia Rutaecarpa (95% Evodiamine Extract), L-Norvaline, Sugar Cane (Extracted For 60% Octacosanol), Coenzyme Q10, Vinpocetine, Alpha-Carotene, Zeaxanthin, Cryptoxanthin, Lutein, Folic Acid, Selenium, Huperzia Serrata (Extracted For 99% Huperzine A)