Boost Your Exercise Performance With Betancourt Bullnox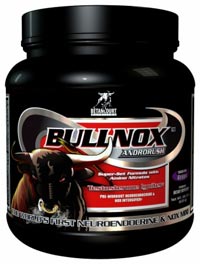 Bullnox Androrush made by Betancourt Nutrition is a "loaded" pre-workout supplement that boosts nitric oxide, increases energy and focus, and intensifies your workout sessions. By "loaded" I mean loaded with massive amounts of different ingredients! Just take a quick glance at the product label and you'll see a dizzying list of matrices, each loaded with a long list of different ingredients. We'll cover some of the key ingredients in Bullnox here, but for a pre-workout supplement, Betancourt sure seems to have gone just a "little bit" overboard with this formula.
That aside, Bullnox Andro Rush is actually quite a powerful and effective pre-workout supplement. It contains several different components, each with different intended purposes and effects. Some of these components include:
Strength & Endurance
Neural Energy
Cardiovasomuscular Dilation (say what?)
Anabolic solidification
Endocrine Ignition
These are the main matrices contained in Betancourt Bullnox. Within each are numerous different ingredients. Don't ask me about the naming of these matrices - they sure sound scientific, ground-breaking, and extremely technical! Okay, sarcasm off. What you find quite often with these types of supplements is that the supplement maker loads it up with all these different components and gives them these incredibly fancy names. Don't get overwhelmed by these, and we'll get to the real "meat" in these below.