What is Muscletech Gakic Supplement?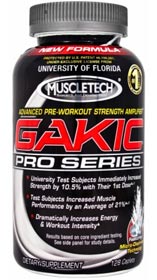 Gakic is claimed by Muscletech as the "biggest bodybuilding breakthrough ever". How true that statement is, we'll find out soon enough in our review of Muscletech's Gakic supplement.
The full name of Gakic is glycine-l-arginine-alpha-ketoisocaproic acid - yeah, that's a mouthful ain't it? =) It is a supplement that's designed to help the end user pump out more reps, delay muscle fatigue, and help achieve more intense workouts.
Sounds good, doesn't it? Just imagine being able to push beyond your normal reps, intensifying your workouts, and going beyond that plateau you've been stuck on... Sounds too good to be true? Perhaps not. Let's find out why.